Houston has a LOT of ugly.
A friend of mine from the city nominated a few buildings, which drew my attention.  On previous visits, I'd always found Houston to be a city that looks better the further away you stand from it.  Up close, the muscular skyline of oil industry wealth and soaring freeways breaks up into a bleak and disjointed landscape of stained concrete and empty plazas.
To be fair, there's not much call for street life, in a city dominated by both the automobile, and, half of the year, stifling, bone-drenching heat and humidity.  Those areas with some appreciable street life tend to be profusions of restaurants and bars to visit once the heat of the day has eased.  Areas like Melrose… or the theater district.
Since the late 1960's, the Alley Theater has resided in one of the more unique and adventurous buildings in the city, a half-block brutalist castle by Ulrich Franzen:
Like many other works of the time and style, the years haven't been terribly kind — concrete streaks and stains, and fashion has long since left brutalism behind.  But in large part due to the playfulness and curves of the look, and Houston's general dearth of interesting human-scale buildings downtown, it's held up much better than, say, the Mechanic Theater in Baltimore (which I'm sure I'll get to in another entry):
No, I'm quite okay with the Alley Theater.  It's what's behind the Alley Theater that's on trial here!  Let's look again: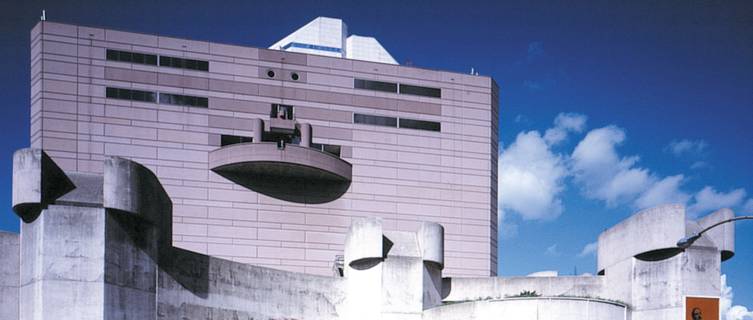 Home to the Alley Theater's 'Center for Theater Production' (on the top 5 floors), this "annex" was built in 2002 following an extensive thrashing the original building took in a hurricane.  Other floors provide office space (most leased).
I like to imagine the Evil Emperor from "Star Wars" reviewing his Stormtroopers from that weird little balcony.
What's worst about this building?  The color, which is possibly the worst shade of salmon to contrast with the stark masculinity of the original theater building?  The way it turns its blank backside in the one direction people are most likely to view it from?  The way it then tries to compensate by having an unnecessarily busy top few floors with absurd and irrelevant flourishes like two porthole windows and the aforementioned balcony?  
If it were merely just another blocky bunker with short bands of opaque black windows, I could almost let it slide.  This is Houston, after all.  But to be so agressively ugly, to be so devoid of context, and to do so… in service of the arts? 
The Crime:  Harassment of neighboring building.
The Verdict:  Architectural Malpractice
The Punishment:  That ridiculous little balcony must be put to the only use it could be intended for in Texas — hanging criminals.  Starting with the perpetrator of this building.
The Highline. 
Since opening in 2009, this elevated park, on a disused railroad structure, has become the second most popular tourist attraction in New York City, by attendance.  After developers and local businesses lobbied to have the elevated structure torn down in the 80's and 90's, the immensely popular park local activists created instead has boosted property values, spurred development, and poured tons of new customers and money into the coffers of local business.  
But alas, much of the new development threatening to ensconce the park in a canyon of newly build luxury high-rises falls woefully short of living up to the potential of location.  
There's "falling woefully short", however, and "shitting on a location like a poorly trained puppy".  Which is what THIS building does:
The fact that the side facing the park is the building's GOOD side ought to tell you enough.  In a cheap bid to look modern and cutting-edge, the building attempts the irregular window spacing of the nearby Jean Nouvel confection, and the silvery skin of its Neil Denari neighbor a block away, one of the few design successes on the High Line. 
Unlike the former, though, the spacing has no rhythm, no craft or shape or sense of larger coherence.  Unlike the latter, the cladding is poorly applied (just look at the crooked and irregular gaps), looks like cheap metal flooring material, and already, as we saw from the street side, is wearing badly with fumes and dirt.  Seriously, let's look again:
CRIMES:  Managing to out-ugly a Russian gas station, copping style from illustrious neighbors, and totally butchering them, lording its extreme hideousness over one of the great urban parks of the world, and further adding insult to injury by asking us to stare, at close range, into the kitchens of the idiots who paid to live in this (apparently poorly built) monstrosity.
VERDICT: Aggravated Assault w/ An Ugly Building
PUNISHMENT:  Architect and contractors should be forced to live out their lives exclusively in rooms which can be viewed by park visitors. 
Let's start with this.
The Portland Building.  In spite of having won a prominent award or two when it went up in the early 1980's, it's aged with even less grace than the perms and legwarmers that were its fashion contemporaries.  Even the architect, Michael Graves, acknowledged he "owed the city one" when bidding to redesign parts of the already obsolete interior only 8 years later.  
LOOK AT IT.  Just look at it.  We're starting Architectural Malpractice with this building because there are few more clear-cut cases.  If the architect were a doctor, he'd be Dr. Nick, and if the building were a patient, it would be Mr. McGregg (with a leg for an arm, and an arm for a leg!):
CRIMES: Dear God, look away!  It's hideous!  In addition to being cheaply built and unpleasant to work in (possibly due to those tiny, widely-spaced windows?), it is devoid of relationship to its context, and is rife with tacky, unnecessary decoration for the sake of what we can only loosely call "style".  It's as though someone took Thoreau's maxim of "Simplify, simplify", and shat on it.
VERDICT:  Architectural Malpractice
PUNISHMENT:  Perhaps this is best left as a cautionary tale for future architects and citizens, as well as an inescapable reminder of just how horrible we, as a society, could be in the early 1980s.  Perhaps convert it over to prison usage, however, so that those subject to its flimsy interior might actually be those who deserve such a fate.